PICTURES
If you have some good Under Byen photos and don't have a place to put them they could easily be hosted on this site if you wish.
In chronological order:
Pressphotos etc.
By Mads Vraa
By Søren Solkær Starbird (under "new images")
By Vincent Ferrane (fansite)
By Anders Von Greffelstejn (fansite)
At French website Imperial (photographer?)
Flyers, posters, tickets, setlists, merchandise etc.
Various live
By Martin Dam Kristensen
By Jint
By Lars Kjær Dideriksen (from Howe Gelb shows where Under Byen members participated)
By Claus Olesen (from Howe Gelb shows where Under Byen members participated)
International Open Book Fest - Moscow 2008
By Varvara Kazaryan (fansite)
Tapperiet - Køge 2007
By Lars Kjær Dideriksen (fansite)
Rampelys - Silkeborg 2006
By Casper Vildrik Justesen (fansite)
Paletten - Viborg 2006
By Michael Boe Laigaard (fansite)
Botanique - Brussels 2006
By Libelia De Splenter (fansite)
Rotown - Rotterdam 2006
By Marc Nolte (fansite)
DFDS Seaways Cruise - Copenhagen-Oslo 2006
Photo Special by Lars Kjær Dideriksen & Jint (fansite)
Spot 12 Festival - Aarhus 2006
By Jint (fansite)
By Lars Kjær Dideriksen (fansite)
By Agata Foti (fansite)
Store Vega - Copenhagen 2006
By Lars Kjær Dideriksen (fansite)
Voxhall - Aarhus 2006
By Jint (fansite)
By Jint
Copenhagen Jazzhouse - Copenhagen 2006
By Lars Kjær Dideriksen (fansite)
Thunderbear - Aarhus 2005
By Jint (fansite)
By Lars Kjær Dideriksen (fansite)
Silence Studio Sessions 2005
By Stine Sørensen (fansite)
Brandts Klædefabrik - Odense 2005
By Kristina Dahlberg (fansite)
Ungdomshuset - Copenhagen 2005
Photo Special by Casper Vildrik Justesen (fansite)
By Janus Bahs Jacquet (fansite)
By Janus Bahs Jacquet
"Underfor Sæsonen" - Herning 2005
By Ingrid van Vliet (fansite)
By Ingrid van Vliet
"Underfor Sæsonen" - Spot 11 Festival - Aarhus 2005
By Jint (fansite)
By Ingrid van Vliet (fansite)
By Ingrid van Vliet
By Per Ole Hagen (fansite)
By Per Ole Hagen
Art Rock Festival - Saint Brieuc 2005
By David (of Volubilis.net) (fansite)
By David (of Volubilis.net)
Institute of Contemporary Art - London 2005
By Julia Spieß (fansite)
By Matt Sephton (fansite)
By Matt Sephton
Rampelys - Silkeborg 2005
Photo Special by Casper Vildrik Justesen (fansite)
By Lars Kjær Dideriksen (fansite)
By Casper Vildrik Justesen (fansite)
By Rasmus Zeuch
Knaack - Berlin 2005
By Home of Rock
Star Club - Dresden 2005
By In-Nomine.de
Flex - Vienna 2005
By Alternative.Music.de
Henriette Sennenvaldt - En bog lavet af sne
By Lars Kjær Dideriksen (fansite)
Store Vega - Copenhagen 2004
Fansite Photo Special by Marco Germinario
By Mulden.org (fansite)
By Marie Helmstedt (fansite)
By René Hyldig (2 pages)
Voxhall - Aarhus 2004
By Jint
By Jint (fansite)
Le Ciel - Grenoble 2004
By Stephane Vendran
Studio 1 - Lyon 2004
By Gérald Tournier (fansite)
La Laiterie - Strasbourg 2004
By Ancient Spirit
Café La Danse - Paris 2004 (November)
By Jean-Marc Luneau
By Nicolas Cuissard
By Nicolas Cuissard (fansite)
FNAC Operá - Paris 2004
At Stars Are Underground
At Live Souvenirs
Aalborg Studenterhus 2004
By Mark Anderson
By Jørgen Pedersen (fansite)
By Line Møller (fansite)
By Sune Petersen
Gigant - Apeldoorn 2004
By Edwin van der Ende
Rockarty Festival, Enschede 2004
By Roy Te Lintelo
By René Damkot
Popkomm - Berlin 2004
By Per Ole Hagen (fansite)
Ekko - Utrecht 2004
By Manuel
By Manuel (fansite)
"På Danske Læber" Leonard Cohen Tribute 2004
By Martin Rosenauer
By Martin Rosenauer (fansite)
"Underfor Sæsonen" - Bornholm 2004
By Ingrid van Vliet (fansite)

Univers - Aarhus Festival Week 2004
By Casper Vildrik Justesen (fansite)
By Lars Kjær Dideriksen (fansite)
By Per Bjarne Pedersen

Øya Festival - Oslo 2004
By Terje Sørgjerd
Folkfestival Dranouter - Dranouter 2004
By Jåk
Roskilde Festival 2004
Fansite Photo Special by Jint
By Jint
By Rockphoto
By Marco Germinario
By Jan Chrillesen
Paradiso - Amsterdam 2004
By Thijs Stalenhoef (fansite)
By Tonie van Ringelestijn

Vera - Groningen 2004
By Mark Scheffer

Gasthof Tepferdt ("after hours show") - Haldern 2004
By Simon Mahler
Les Femmes S'en Melent #7 - Café De La Danse - Paris 2004
By Nicolas Cuissard
By Nicolas Cuissard (fansite)
At Stars Are Underground
Roter Salon - Berlin 2004
By Lars Kjær Dideriksen (images grabbed from video)
Motel Mozaique - Amsterdam 2004
By Peter de Jong
Eurosonic 2004
By Pepijn van den Broeke (alternative link)
Voxhall, Aarhus 2003
By Ingrid van Vliet
By Jint
By Martin Dam Kristensen
Haldern Festival 2003
Empty-Room.de
PortPolis Performance 2003
By Lasse Hoile (in the gallery under 'P')
By Jint
Steppeulven Awards 2003
By Agnete Schlichtkrull
Prague 2002 (UB's first show outside Denmark)
By Roman Sekyrka
At Dramatisk.dk (Roman Sekyrka and others)
Voxhall, Aarhus 2002
By Halfdan Abrahamsen (fansite)
Forbrænding, Albertslund 2002
By Halfdan Abrahamsen (fansite)
Miljøfestival, Copenhagen 2002
By Lars Kjær Dideriksen (fansite)
Skanderborg Festival 2000
By Lars Kjær Dideriksen (fansite)

Roskilde Festival 2000
By Lars Kjær Dideriksen (fansite)
By Rockphoto

Note: Photo of "angelic Myrtha" on frontpage by Jint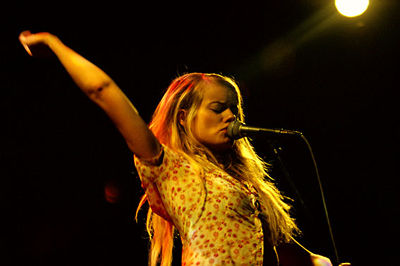 Photo: Roman Sekyrka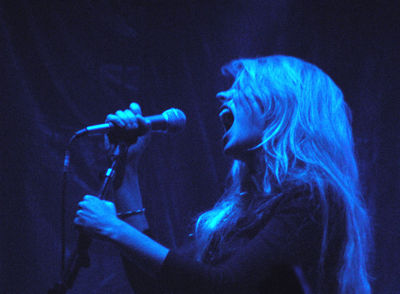 Photo: Jint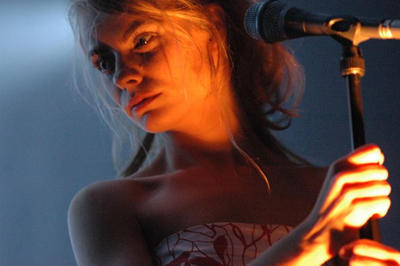 Photo: Marco Germinario